SECTION 1
Title 1
Title 2
Title 3

SECTION 2
Title 1
Title 2
Title 3
Title 4

SECTION 3
Title 1
Title 2
Title 3
Title 4
Title 5

SECTION 4
Title 1
Title 2
Title 3
Title 4
Title 5
Title 6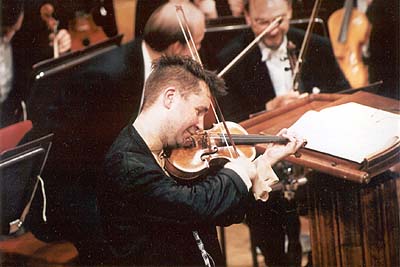 Nigel Kennedy has been recognized as one of the world's leading violin virtuosos. He started studying at the Menuhin School, with Sir Yehudi Munuhin. Then later, he moved to New York and studied with Dorothy DeLay, at the Julliard School Of Music.
Famous for having a punk haircut and dressing unformally during concerts, he made his debut with the Philharmonia Orchestra at the Royal Festival Hall in London in 1977. He has since toured around the world with the British Broadcasting Company (BBC).
The Four Seasons (1990) launched him into stardom. The CD went No. 3 in UK pop charts and in other countries. Then, it soon became No. 1 in the UK classical charts a year later. This recording, with a sale of one million copies, has earned its place in the Guinness Book of Records.
In 1992, he withdrew from the classical world, saying, "I'm sick of playing dead peoples stuff." Then, to the delight of all his fans, he returned to classical music in 1997. He has played jazz with the self taught French violinist, Stephane Grappelli. Many of his recordings are released by EMI. Some major releases are, the Tchaikovsky Violin Concerto with the London Philharmonic; the Bartók Solo Sonata together with Mainly Black, Kennedy's own arrangement of Ellington's Black Brown and Beige Suite; the Sibelius Violin Concerto with the City of Birmingham Symphony Orchestra conducted by Sir Simon Rattle; Walton's Violin Concerto with the Royal Philharmonic Orchestra and André Previn and the Bruch and Mendelssohn concertos with the English Chamber Orchestra conducted by Jeffrey Tate. Kennedy's recording of the Brahms Violin Concerto with the London Philharmonic, under the direction of Klaus Tennstedt, was released in March 1991 and, in June 1992, Kennedy joined forces with Klaus Tennstedt to record the Beethoven Violin Concerto. Then under the Sony Classical label, he realeased The Kennedy Experience. This CD contains arrangements of songs by Jimi Hendrix, one of America's greatest rock stars.
He has recently released Classic Kennedy, Duos For Violin and Cello, and Kennedy Kriesler. He is currently working on a number of recordings, to be released next year.
~Din Sung
e-mail: aznNKStrad@hotmail.com
AIM screen name: Rebel Violin